So here I am,cruising through the eastern straight on one of the more challenging maps in World of Warships. It's a passage that must always be contested, because it's effectively a path straight into your own territory – where your own heavy and somewhat slower carriers tend to be. You almost never see battleships here, but fast and agile destroyers love it. They can dash in, and fire off a spread of torpedoes. In the narrows, they can be hard to dodge. In this instance, I'm in a midweight cruiser, a Cleveland class ship with fo ur turrets mounting three medium calibre guns each. It's fast and sleek, and can put serious hurt on a destroyer. Except… there are two of them, and another cruiser, and I only have another destroyer from my own side for support. Do I rush in, and hope I can avoid getting caught in a torpedo crossfire? Do I slow down, stand-off, and hope my superior gunnery can even the odds against the smaller ships? Or do I fall back entirely, amongst the line of battleships to the rear? Regardless, I need to make a decision soon – I'll be torpedo range about now!
OPEN FOR BUSINESS World of Warships recently went from closed beta testing to its open beta phase, and if you're at all interested in naval warfare in the age of battleships, it's an almost essential game to play. Its battles are tense affairs, complete with hulking battleships and aircraft carriers capable of ruling the skies – and punishing the surface combatants down below. Of fast destroyers weaving in and out of heavy cannon fire to deliver a welltimed torpedo salvo, and of cruisers waiting for their moment to strike and swarm a weakened foe.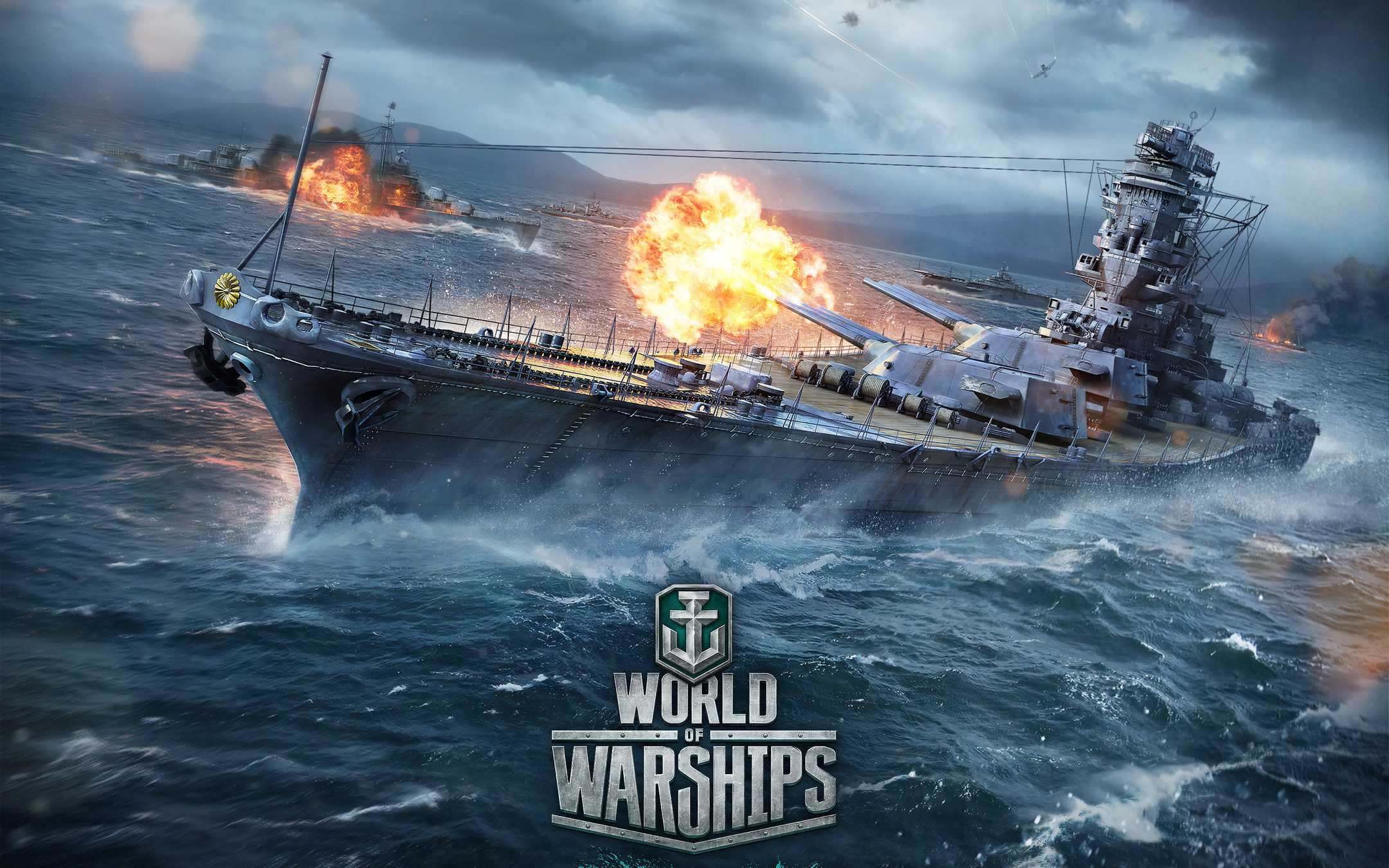 Like all of Wargaming's recent titles, one of things that keeps you coming back to the game is slow pace of upgrading and unlocking new vessels. In the open beta there are only the Japanese and American fleets, but that's still nearly sixty vessels to explore. You can purchase upgrades for each that increase turret turn rate, or even improve repair times, and you can even mount camouflage on your mighty beasts of the sea. From here into full release, the game will only get better. Fair warning, though: if you do get into the beta now, be prepared to lose everything that you unlock. That's what happened during the transition from close to open beta, to level the playing field, and it'll surely happen when the game officially releases. That said, if you buy a premium ship with bought Gold, you keep that, and veteran players will likely get a special premium ship for their time helping out during testing.
ROCK, PAPER, BATTLESHIP There's a very definite element of rock-scissor-paper to the game, with battleships being great at taking out cruisers, cruisers great at taking out destroyers, and destroyers being pretty handy at heavily hurting battleships, but any ship is capable of being effective in a variety of roles. Battleships are the heaviest units, with the biggest guns and the heaviest armour. Destroyers are fast, and their torpedoes are very effective, but the ships are fragile. Cruisers sit in between in nearly every way, and aircraft carriers are like playing a whole other game, something more like an RTS, as you vector your squadrons over a top down map. The mechanics of the game's combat are much richer though. Detailed armour mapping makes picking your targets a priority, and you can destroy individual guns, knock out engines, or even